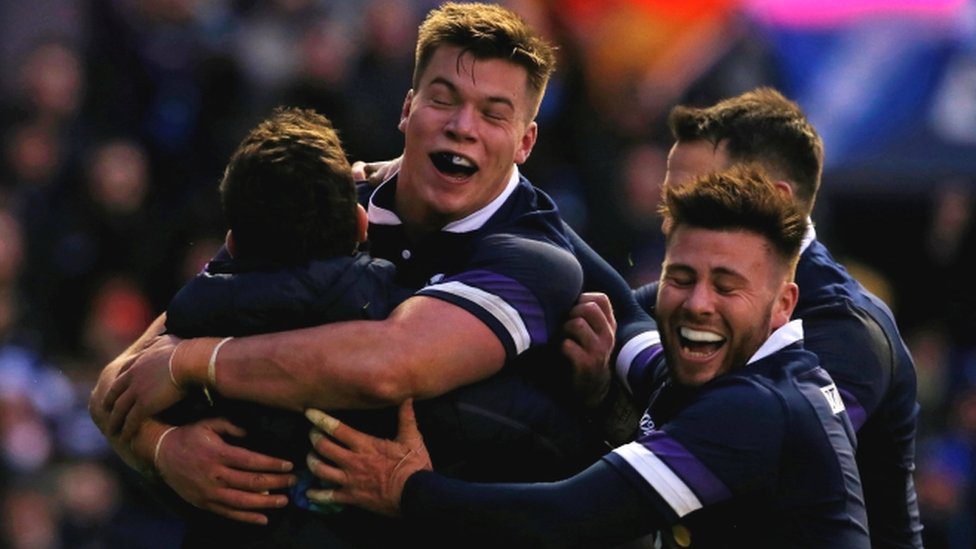 Scotland full-back Stuart Hogg believes their display in a record win over Australia must be a "minimum standard" in pursuit of Six Nations success.
Hogg was forced to sit out Saturday's stunning 53-24 triumph after injuring a hip flexor muscle in the warm-up.
But he believes it showed Scotland have the talent and game-plan to achieve an "ultimate goal" of winning a trophy.
"We can really take a huge amount of confidence going forward," Hogg, 25, told BBC Scotland.
"We knew Australia was another massive challenge for us, and the manner of that victory was something pretty special.
"Everyone is asking us, 'is it a challenge for us to back that up?' I don't believe it is. I think that has to be the norm for us.
"That has to be the minimum standard, and that is something we will strive towards every single day.
"We believe in ourselves. We fully understand the amount of talent we have got playing in Scotland at the moment, and every single one of us seems to be performing well.
"So we believe in each other's ability, the coaches have got a game-plan for us to execute that will go out and pick up victories. You can see that over the last few weeks, and the last few years as well, that it works when we get it right. For us it is exciting times - I just wish the Six Nations was tomorrow."
'I went to kick a ball and something didn't feel right'
Hogg, who insists Scotland "will not get too carried away", is waiting to discover the extent of the injury he suffered on Saturday.
He is likely to at least miss Glasgow's Pro14 game against Cardiff Blues on Friday, but hopes any absence will be minimal, having only returned from four months on the sidelines last month.
"I was struggling a little bit with my hip flexor during the week," he said as he recalled Saturday's incident. "We thought it had got to the stage where we could manage it well enough to be playing.
"I spent a lot of time on my warm-up, I was feeling good and then I went to kick a ball and something didn't feel right. I thought maybe it was a one-off, so I would try it again, and ended up damaging my leg a bit more.
"I just felt I wasn't 100% to play, so I didn't want to be selfish about the situation. I didn't want to put my team-mates in a position where I could be off after five minutes.
"We've just got to wait and see what is going to happen next. We have a fantastic group of physios at Glasgow and hopefully they'll have me back in tip-top shape in no time.
"You are always going to pick up these little set-backs every now and then. It is how you come back from them, and that is another challenge I have got for myself now."
'I was jumping around like a clown'
Hogg's withdrawal, barely 20 minutes before kick-off, saw Sean Maitland switched to full-back - "thankfully Sean really stepped up and had a cracker" - with Byron McGuigan coming into the side on the wing and scoring two tries on his first Test start.
Hogg admitted to mixed feelings watching such a thunderous display that featured eight Scotland tries and a record points haul against tier-one opponents.
"Pure delight" on one hand, but "tough to watch" on the other, is how he described it - "especially after being involved all week, and knowing exactly what we were trying to do and trying to execute".
"I was hoping the camera wasn't on me too much because I was jumping around like a clown," he recalled. "I probably damaged my leg even more.
"It was incredible to watch the boys in that atmosphere at BT Murrayfield. When things go well, the crowd get on our side and it is just a pretty special place to play."
'I was getting called John Terry'
Hogg's belated absence from the match-day squad did not stop him getting involved in the raucous celebrations that followed.
"I was right in the middle of it," he said, smiling at the memory. "I was getting called John Terry for taking all the glory and I had done nothing on the pitch. I was loving it.
"The boys deserved it. We had a few quiet beers and really enjoyed our time together because that is us until the Six Nations now.
"Everyone will go back to their clubs and we won't hear a lot from each other so it was good to spend some time with the boys and finish off the campaign on a high."
'Finn Russell lent us his private jet'
The celebrations continued on Sunday as Hogg and Finn Russell, who is joining French giants Racing 92 next summer on a deal believed to be worth around £700,000-per-season, formed part of a Scottish contingent invited to World Rugby's end-of-year awards ceremony in Monaco.
"That was pretty special," Hogg added. "Finn Russell managed to lend us his private jet to take us across as well, so that was pretty cool.
"We were jumping on that plane thinking 'that is definitely not for us' but it turns out it was. It was pretty cool.
"It was a fantastic evening celebrating people picking up awards, and what a year it has been for world rugby."
After an uplifting autumn, what 2018 could bring for Scotland is now a source of rich optimism.
"Everyone is performing well and it is the first time in a long time we have got really good strength in depth as well," Hogg noted. "In all honesty it is exciting times for Scottish rugby."
Source: BBC Rugby Union News