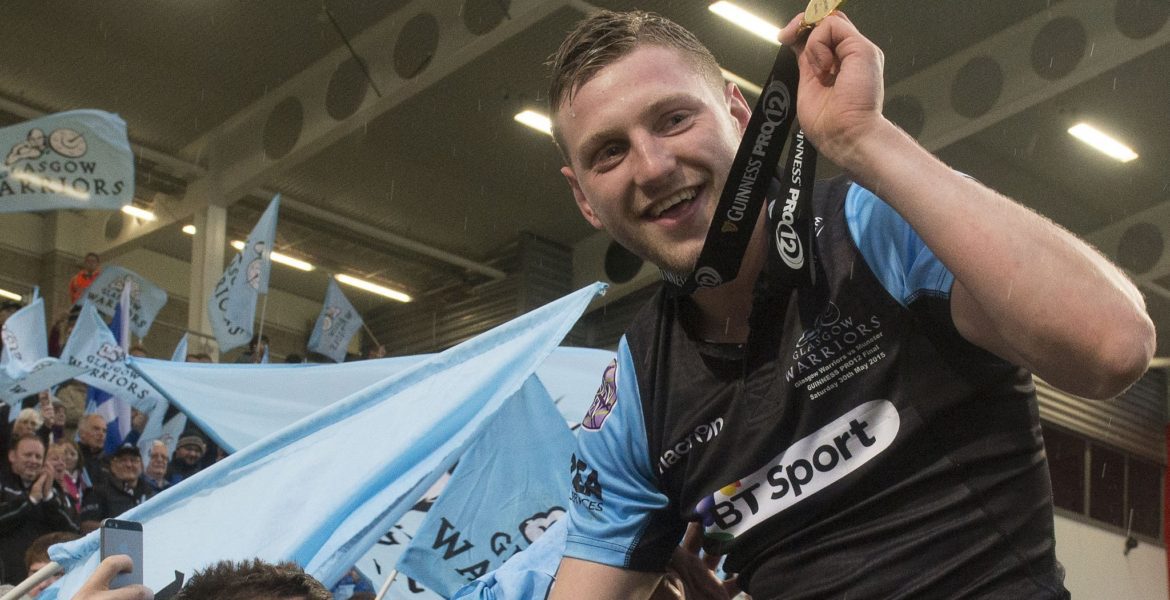 Finn Russell has enjoyed a searing ascent from Stirling stonemason to one of Scotland's most indispensable rugby players.
He has a Pro12 title, 37 caps, and a British and Irish Lions call-up on his CV. He has, for now, no rival for the national number 10 jersey and, in Gregor Townsend, a coach who encourages him to harness his brilliance.
He has the fame that comes with being the poster boy for a flourishing sport, and a fortune awaiting him in Paris in the form of a three-year deal said to be worth £700,000 per season with the European Champions Cup runners-up.
Russell is bound for the French capital this summer, the lavish wealth of the Top 14 and a place among the galacticos of Racing 92 bringing his six years at Glasgow Warriors to an end.
Friday's Pro14 semi-final against Scarlets will be his final home match and, if Dave Rennie's Glasgow fail to do the business against the defending Pro12 champions, his last for the club.
The fly-half is desperate to bring down the curtain on this fondest of chapters with another trophy.
"You don't want the semi-final to be your last game; you want to go on to the final," the 24-year-old says. "It's not sad having my last game here in the semi-final rather than in a game that doesn't mean anything.
"There wouldn't be a better game to have your last [home] game than a semi-final.
"Scarlets beat us quite comfortably recently and they are a top side. They are definitely one of the best in Europe.
"They have had three games of knockout rugby already this season [in the Champions Cup], so we'll have to be at our best. It's our first time for knockout rugby this year. There's a lot of experience in our team, so it's good to have that going into these games.
"It comes down to these 80 minutes. Some boys started pre-season on 1 June. If it doesn't go our way, it's 12 months just to get to the semi. So there's a lot riding on the game, but at the same time that's why we play - for these big occasions, these big games."
'It's been the best six years of my life'
Gloriously talented; maddeningly carefree; brilliant, bonkers and instinctive in equal measure, Russell will leave a gaping chasm in the Glasgow backline.
Having been "overlooked for bigger or quicker guys" at age-grade level, he eventually won an academy deal, then shot to prominence five years ago, carving out a berth in Townsend's flourishing Warriors side that became a force in the league, and champions in 2015.
"I was quite happy being a stonemason and living a normal life," Russell says. "When I got offered an academy contract it was less money and probably more hours travelling to play for Ayr. It was tough but I just accepted that.
"The first year I was here, Glasgow got to the semi-finals, so I've always known Glasgow was a top-four team. A lot of the older boys say in years gone past they were never like that.
"It's different now for young boys coming through. They see Glasgow as one of the top teams in the league and you almost don't appreciate what the older boys went through to get the club here.
"When I first started playing here I think there was about 5,000 fans. Throughout the whole season this year there's 7,500, and we're putting in 10,000 for the weekend. It shows how the sport is growing and how this club is growing.
"It's been amazing for me - Scotstoun, the fans. That's probably given me the best six years of my life so far.
"It's given me things that six years ago I would never have thought of or thought possible. It's chucked a lot of challenges at me that I wouldn't have thought I'd be facing. As a person its made me grow and as a rugby player its definitely developed my career."
'It'll question me and my ability'
Russell has been rested for Scotland's June tour of the Americas, as he prepares to enter a squad of global superstars.
Even if he succeeds in becoming Racing's first-choice pivot, he has huge boots to fill with All Black Dan Carter, arguably the greatest fly-half of all time, departing for Japan.
"For my career and personally to get new challenges and be outside my comfort zone it'll make me grow as a person and as a player," Russell says of his move.
"It'll question me and my ability but I'm looking forward to it.
"With the squad they've got, whatever position, there's going to be a fight for it. It's a team of world-class individuals and the way they're playing something is obviously working for them.
"My first goal is to get over there in pre-season, learn French, get to know the boys and get the 10 jersey. Those are the targets for me. There's no point in looking forward to who you might be playing with or against if you cant get a game."
'I still have a laugh and mess about'
Russell may be joining one of the biggest clubs in world rugby, but he maintains he would be just as happy pounding and sculpting rock in the little village of Thornhill as living the life of a professional athlete.
"I don't think I need [kept] grounded but my friends and family make sure I am," he says. "I don't think I've changed. I'm still having a laugh and a mess about.
"When I can, I like to take family and friends with me wherever I go. I had my mum and dad out after the England game [Scotland's Calcutta Cup victory] partying with us.
"Rugby? It's a job, it's a sport, but I guess that's all it is. There's more to life. I would have been happy if I was a stonemason for the rest of my days.
"I guess that's one thing that keeps me grounded in the real world. I've been given this opportunity but I had another life before this."
Source: BBC Rugby Union News