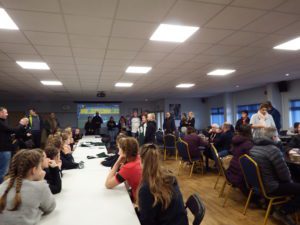 The team travelled down to Cornwall at the weekend for the second fixture of the autumn. Their hosts were Camborne rugby club who made everyone very welcome. All three U15 games were played simultaneously under leaden skies that saw patchy rain making for some interesting playing conditions.
The first half of the game saw Alice Critchell run over the line in the opening minutes scoring from a perfectly executed offload. Gloucestershire fought back hard and worked the Dorset & Wilts defence to force mistakes and spaces to widen the gap, making it 12-5 by the end of the first half.
The second half saw Dorset & Wilts with some extraordinary play and heavy carries. With Dorset & Wilts adding continual pressure, Gloucestershire were unable to get possession and gain ground. Dorset & Wilts balancing and adding to the score board with 2 more tries by Anais Wilman and Maisy Allen.  A nail biting end saw Dorset & Wilts continue to retain possession before kicking for touch and seeing the girls walk away with a 15-12 win.
A great shift put in by each of our girls, some picking up injuries and others picking up tries. The final game of the series will be played at Drybrook RFC on Sunday 3rd December against Oxfordshire RFU.