CLUB SUPPORT - FACILITIES
Grants
Currently all grants are suspended - please visit https://dwrugby.co.uk/funding/
For more details please contact - Gerald Burden - 07415 995087 - honsec@dwrugby.co.uk
A Quick Guide
to the make-up of a Rugby Club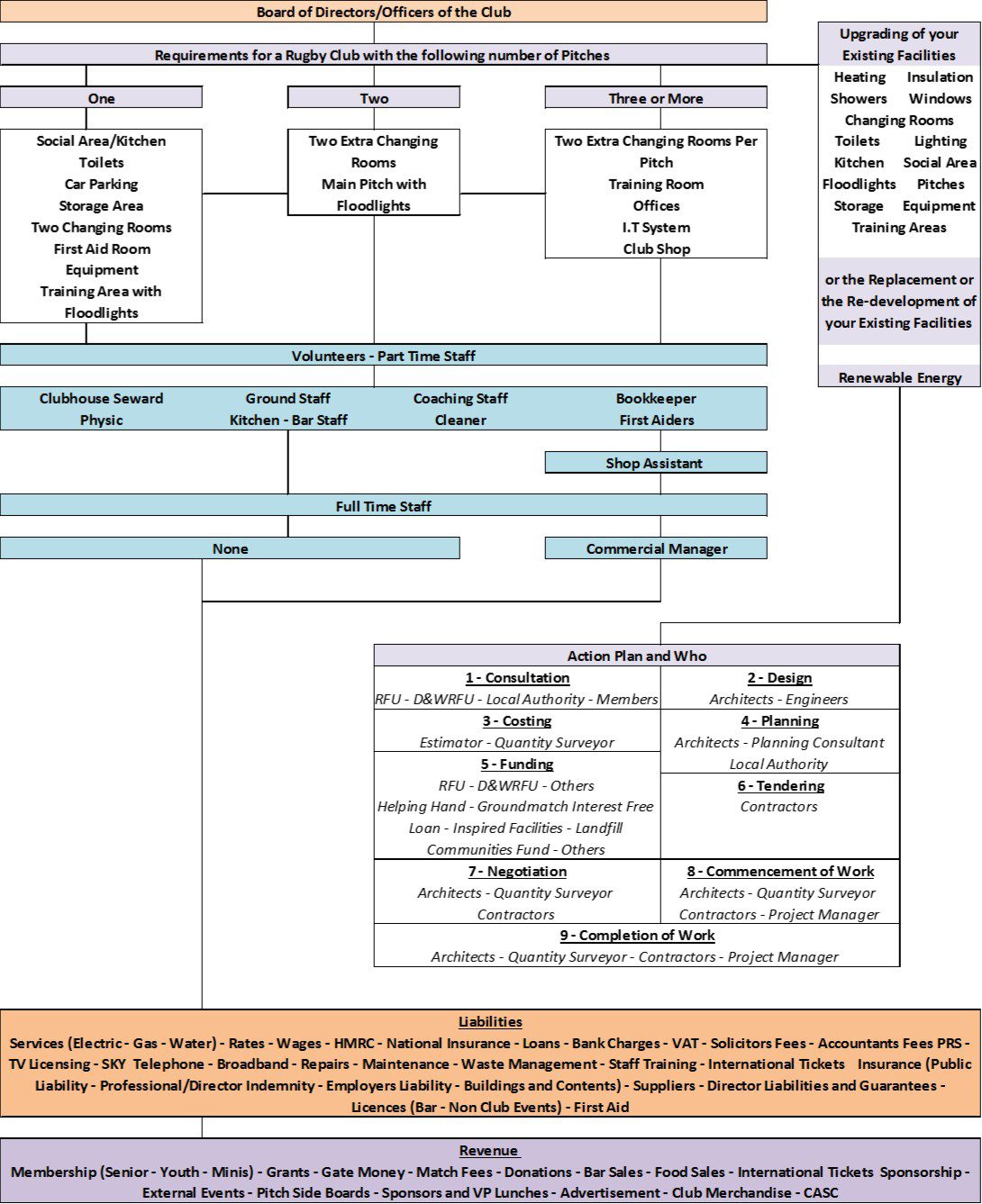 CLUB BUSINESS DEVELOPMENT PLAN TEMPLATE
Key Objectives
To produce a family friendly atmosphere in which people can not only play rugby, but are able to relax and feel watching rugby is a social event for all members of the community
To foster and further develop relationships within the local community and other sporting organisations that will ensure the future and continued growth of Your Club
To identify and support approaches for ensuring that the benefits of the Rugby Club are equally accessible to all young people with the ability and desire to progress in sport, targeting all members of society including those living in a designated priority or disadvantaged areas
To further develop the management, coaching and playing qualities of the Men's, Women's, Mini's and Youth sections within Your Club
To maintain RFU Club Accreditation
CLUB MANAGEMENT
Finance
a) Strengths and Weakness
b) Assets
c) Loans/Investments
d) Lack of Financial Planning
e) Cash flow
f) Profitability
Banking
a) To continue to monitor all bank accounts, to achieve the best financial results for Your Club
b) To closed any disused bank accounts linked to Your Club
c) To centralise the control of all bank accounts with the Directors/Management Committee
d) To set up payment of Membership Fees by Standing Order (i.e. monthly or yearly)
Membership
a) To review the cost of membership to Your Club on an annual basis
b) To carry out a review of the membership structure
Club Records
a) To upgrade the records held on Accounts (Sage) – Members – Suppliers – etc
b) To maintain and update any records held by Your Club in accordance with the Data Protection Act
Trade Accounts
a) To reduce the overall running cost of Your Club, by achieving and maintaining the purchase of goods and services at the best prices available
b) To eliminate waste (i.e. Services etc)
c) To pay accounts by Direct Debit (i.e. Services etc)
d) To maximize credit terms offered
e) Review VAT
Club Shop
a) To expand the sale of club merchandise
b) To expand into on-line shopping
c) School Uniform
Sponsorship – Funding
a) To identify local sponsors and local/national funding opportunities to assist in development of the club as a local 'community service'
b) To develop new methods of fund raising
Employees
a) To continually review and monitor all staff performance
b) To make available suitable training to all members of staff
c) To continually review staff requirements and appoint new members of staff as required
d) Improve the standard of cleaning thought-out the clubhouse
e) Clear defined roles for each member of staff and key volunteers
f) Employ the right person to carry out the task required
ADMINISTRATION AND LEGAL
Overall Club Management
a) To continue and to develop on the work already undertaken with the formation of the Limited Company/CASC/Industrial & Provident Society
b) Business Plan
c) Insurance
d) Taxation
e) Improve the standard of club – match – tour management
Health and Safety
To meet all current regulations
Regularly review your Health and Safety plan
Employment Requirements
To meet all current regulations
T. System
To update or install an I.T. System for the recording of sales – accounts – wages
Volunteer Recruitment Plan
The need to develop a plan to actively attract new volunteers into the club that is targeted at the new parent base that is comes each year with young player new starts and from all areas of the local community
Succession Plan
Within each club committee, each committee position has a job description that includes a responsibility to identify a replacement and complete a suitable handover with that person to ensure management continuity of that committee position
FACLIITIES AND EQUIPMENT
Facilities
a) Facilities and Maintenance Plan
b) Overall Site Development Plan
c) The implementation of Cost Saving Systems

Electric (Wind/Solar/Better rates from supplier)
Gas (Better rates from supplier)
Heating (Modern Boilers/Heat Exchange System)
Insulation (Roof Space/Walls)
Double Glazing (Replacement Windows)
Water (Grey Water System)
Planned Maintenance
Bar Area
a) To continue to improve the Bar area and to improve the social experience
b) To continually review and monitor the needs of the club's customers
Toilets
a) To continue to improve the toilet facilities within the club
b) To review the requirements regarding the number of toilets to members (i.e. Bums on seat rule)
Kitchen
a) To continue to improve the kitchen facilities within the club
b) To monitor and test all kitchen equipment on a regular bases comply with all current regulations
c) To redevelop the existing kitchen
Office
a) To refurbish to General Office
b) To update the current Office Equipment
c) To restricted access to the General Office
Players Changing Rooms
a) To improve Changing Room Security
b) To refurbish
Referees Changing Rooms
As above
Storage Areas
a) To improve the standard of the current General Storage Areas
b) To develop new secure General Storage Areas
c) Improve the storage of Plant and Machinery
Playing and Training Areas
a) To manage to usage of all playing areas to prevents over use
b) To improve the standard of all playing areas
c) Referees training
d) Coaching staff training
Pitch Lighting
Does the club need Floodlighting and how can the obtain Floodlighting.
Training Lighting
a) Training Areas that have adequate floodlighting
b) To continually review and monitor the need for floodlighting to training areas
Spectator Areas
a) To construct a Spectators Terrace
b) Pitches to be fenced off to the minimum standard
c) To increase the general standard of all spectator areas
Car parking
a) To lay a sealed surface to any existing car parks
b) To mark out the car parks into standard size packing spaces, so increasing the number of car parking spaces available
Additional Land
To purchase additional land to enable the provision of more pitches and training areas
Clubhouse re- development
a) Any development that is done needs to take into account the RFU Club Accreditation and the RFU guidelines on Community Rugby
b) The new development will have to offer a wider range of facilities to the Community
c) The new development will have more user friendly (i.e. Not only a rugby club, but a social experience)
PROMOTIONS AND PUBLICTY
Support to other Origination
a) To support the development of both the Rugby Football Union and Dorset & Wilts Rugby Football Club
b) Improve communications regarding match results
c) Work with other sports in area
Web Site
a) To continually review and improve the club web site
b) To expand into on-line shopping
Press Coverage
a) To improve the coverage of club events with the local media (Radio – Printed – TV)
b) Improve March Reports
Better Communications with the Membership
a) To continue to develop communications with the Membership via the Rugby First e-mail system and Social Networking
b) Notice Boards
c) Photo Boards, so members know who are the Directors/Committee Members/Officers of the club (Clubhouse – Website)
d) E-Newsletter
e) Better communication with other clubs (re: fixtures/cancellations/etc)
Better Communications with the Club Sponsors
a) To develop communications with the Club Sponsors, via E-Newsletter, Sponsors Lunches
b) Links to and from the club's website
Social Networking
Link the Website to Social Networking sites
Social Events – Corporate Events
a) To update and the Club's Image
b) To raise the profile of the your Rugby Football Club within the local community enabling the club to promote the facilities available to the community
A Quick Guide
to a planned Facilities Development at your Rugby Club
Firstly identify the next stage of your clubs development, so you are clear in your own mind what your club requirements are for the future and then contact your local RFU Rugby Development Officer and the Dorset & Wilts RFU Facilities Co-ordinator to discuss your requirements, as they will need to sign off any application for RFU related funding.
Please critically analyse your proposals and robustly challenge their need to ensure that they are what the club requires and will make the difference you plan to achieve. At the same time, consider 'deliverability' starting with those who should form your project team, who will lead it and the professional support you may require. Also map out a sensible timetable including all key development 'milestones'.
Please note that the Rugby Football Foundation does operate minimum standards on the following
1. Changing Rooms
2. Toilets
3. Floodlights.
If your project focuses on these areas you will be expected to work towards these as minimum standards if you intend to seek RFU grant.
The Rugby Football Foundation has produced a number of guidance notes to help rugby clubs with their application process; you can view these at www.rfu.com
1. Planning Permission
2. Floodlights
3. Grass Pitches
4. Grass Pitch Maintenance
5. Accessibility and DDA
If your clubs requirement are for Improving, Re-development or Replacing your existing facilities, your club will need both Club Accreditation and a Club Development Plan in place before certain funding can be granted by the Rugby Football Foundation. Your club will also need security of tenure on your facilities (Freehold – Lease) to apply for certain other types of funding.
After you have reached the stage where you know what your future requirements are, together with your RDO and the Facilities Co-ordinator, you can form an action plan. Set out below are ten stages which could be within your action plan and who you should to discuss your requirements with.
Task
Action
Consultation

Meet with

a) Your membership

b) RFU Rugby Development Officer

c) Dorset & Wilts RFU Facilities Co-ordinatord

d) Local Authority

e) Other Local Community Group/Sports Clubs to find out what is required within your area, which you may be able to provide and in turn generate an income, particularly during the summer months.

f) Find out if you have any members in your club with professional qualifications within the construction industry, and who may be willing to carry out some the early work for you at a reduced rate or even better for free.

g) Use the local press to publicise your plans

Design
Appoint an Architect to provide a draft scheme; do not go over the top with design drawings etc. at this stage, just a basic set of drawings will do, this will help to limit your spending. Remember that your planned may not go ahead.
Costing
Appoint a Quantity Surveyor or Estimator to provide a draft costing, to find out if you can afford the project. Try and agree a fixed fee with all your team to reduce any overspend.
Planning

You may need to appoint a Planning Consultant to work alongside your Architect to deal with the Local Authority. You may have to get some

You may have to get some speciality reports prepared to support your planning application

Funding

Meet with

a) RFU Rugby Development Officer

b) Dorset & Wilts RFU Facilities Co-ordinator

c) Other funding agency

Please note that the Rugby Football Foundation does operate minimum standards on the following Changing Rooms – Floodlights

If your project focuses on these areas you will be expected to work to these as minimum standard if you intend to seek RFU grant.

Tendering
Along with your Architect and Quantity Surveyor select at least three contractors to tender for the work
Negotiation
With aid of your Architect and Quantity Surveyor select your contractor.
Commencement of Work
Agree who from your club will be the main point of contact during construction with your contractor Appoint a Project Manager to oversee the works, although this may be carried out by your Architect or Main Contractor. Your Quantity Surveyor will have to agree all requested for payment.
Completion of Works
Handover of your new facility
Official Opening

Invite the good and great from your local community (MP, Mayor, Councillors, Head and Sport Teachers) Also the local press to the opening