Game Management System (GMS) help page.
Dorset & Wilts
If you need training on GMS please contact David Wookey rugbyadmin@djawltd.com
We will arrange a visit/training session or call to assist your requirements. Dave Wookey is a RFU GMS Trainer and can come to your club and run sessions for your administrators to help.
If you experiencing problems and require help please check out the frequently asked Questions below. If you have any issues you can contact Dave Wookey at rugbyadmin@djawltd.com
Further information can be found on the RFU GMS Hub pages https://www.englandrugby.com/governance/club-support/gms/
FAQs - updated 5 October 2018
GMS Contact info
D&W IT Support
Dave Wookey
RDO
Chris Burton
GMS User Guides
Data Security Policy statement from the RFU and why do you need e-mail and DoB
Please see below information about RFU's stance and reasoning on the collection of data and the RFU's use of information entered by Clubs.
Collection Of 5 Key Pieces Of Data
We have a responsibility to hold accurate data on the individuals we have on the database and if the individual changes their own personal details or requests us to do so we are obliged under the DPA to do it. This would be impossible if we had duplicate entries for the same person i.e. if they already had an englandrugby.com account or had previously been a member at another club. This also includes holding the correct marketing flags for an individual, having a single version of an individual on the database ensures we hold the correct 'opt in' and 'opt out' settings for that person.
Because the majority of records are created by club volunteers and the need to keep individuals personal details private, duplicate records are created on the system and a process needs to be put in place to help match and merge records if duplicate are identified. This is particularly important to be able to identify those individuals who are subject to actions such as safeguarding bars.
To undertake the deduplication process and match any new records to existing records for the same person (if they exist) we require 5 pieces of information and they are First Name, Last Name, Post Code, Date Of Birth and Email Address and these are mandatory across all RFU systems, not just GMS.
Marketing Messages
When a new member is added to GMS they are automatically opted out of the commercial mailings unless they opt in, either online themselves or by ticking the relevant box on a form.
The current wording on GMS does allow the RFU to contact individuals with non-commercial/rugby related emails if we hold their data for a specific rugby reason on the database and the mailing is related to that. So if somebody has the role of Coach or a coaching qualification we can contact them if there is an important message relating to coaching that we need to distribute e.g. new concussion protocols, DBS changes. These communications will never be of a commercial nature.
Being just a member at a club does not fall under rugby regulations so would not receive emails for that reason however if they request their usernames/password the system needs to be able to send them that email.
The communication aspects of the DPA is primarily written for direct marketing and commercial communications and the RFU are committed to not sending such emails unless the user opts in (see below) for these mailings. Every record on the system has a username and password associated to it and can log in to englandrugby.com or GMS to amend their own preferences.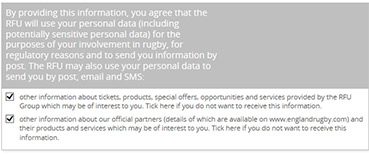 Again, it is in each club's interests to be able to identify those who are subject to sanctions such as safeguarding bars.
Further Information and their data protection principles can be found at the website of the Information Commissioners at https://ico.org.uk/for-organisations/guide-to-data-protection/